Transport Racks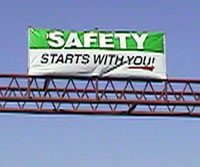 Always ensure the equipment you are using for handling racks is suitable and in good repair.
Always observe good practice when lifting, stacking, and moving racks.
Do not drag racks across other racks when positioning or lifting.
Ensure bottles are correctly placed and will not fall when the rack is lifted or moved.
Ensure racks are correctly positioned onto the lower racks when stacking.
Loaded racks should not be stacked too high.
Only lift one transport rack at a time.
Only trained personnel should operate fork lift trucks.
Racks should only be lifted with an evenly distributed load. The forks are positioned at a span of approximately 75% of the rack width and an equal distance from each side.